If you are a congregational leader or lay worker in a local church, you've likely looked around and noticed your community is changing. Perhaps you wonder if your congregation needs to change, too. Is there a site with the tools and resources that can help you find reliable answers to your questions?

Indeed, there is. The Association of Religion Data Archives (the ARDA) has an amazing range of relevant data and easy-to-use tools that will help you imagine the right questions to ask and find trustworthy data that will allow you to answer your questions easily and accurately. You can even produce powerful visual aids to share.
Here are three examples – available free from the ARDA.
1. The Community Profile Builder
The Community Profile Builder assists users in accessing free online information about their communities. The initial map shows the locations of other congregations in your chosen area using any ZIP code, city and state, or complete address in the US. The Profile Builder then provides you with social, economic, and religious information about the community or neighborhoods you select. These data are drawn from several sources including the U.S. Census and the Religious Congregations and Membership Study. Explore the Community Profile Builder here: http://thearda.com/demographicMap/.
This free online resource has been used by congregational leaders and pastors to gain a data-driven sense of their congregation's ecology. These insights have helped many know how best to serve their community, as well as what types of ministries their congregation might consider starting. For instance, you could answer questions like "Are there a lot of families with young children around my congregation, or primarily older adults?" or "Are there areas near my congregation where the poverty rate is high?"
2. The Community Profile Builder Guides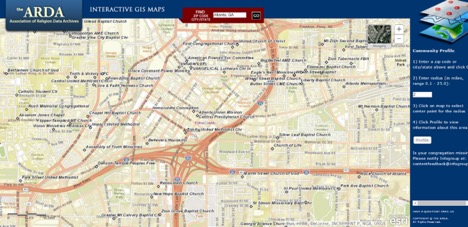 The ARDA also offers eight free Community Profile Builder Guides that assist users with more detailed directions as well as thoughts on how to interpret and best use the Community Profile. Prior users share how the Community Profile Builder helped them better understand the needs of their neighbors, figure out where to start a new ministry, and decide how their faith community could best reach out to their physical community. See our list of Profile Builder Guides here: http://thearda.com/demographicMap/.
3. Congregational Resource Center

The Congregational Resource Center on the ARDA is a one-stop shop for resources useful to congregations. The Congregational Resource center includes a "Did You Know" section that highlights common questions congregational leaders ask and where answers to these questions can be found on the ARDA. These include broad questions like "What do Americans believe and how do they behave?", "How does my congregation/religious tradition compare to others?", and "Where can I find data on religion around the world?" with sub-questions included under each one.
The Congregational Resource Center also contains various helpful guides for congregations. These free resources allow priests, pastors, or lay leaders to discover the makeup of their community or create a pin map of where all their congregants live. Explore more: http://www.thearda.com/congregations.asp
We consistently hear positive feedback from users concerning each of the resources mentioned above. In a quickly changing world, it is vital to know where to go for easy-to-access quality data on religion and up-to-date information about your community. We trust these resources will quickly prove their value.
About the author: Andrew Whitehead is an assistant professor of sociology at Clemson University where he primarily studies disability and religion as well as Christian nationalism. His article on congregations (not) including children with chronic health conditions was published here earlier this year. You can follow him on Twitter @ndrewwhitehead or peruse his faculty page here.